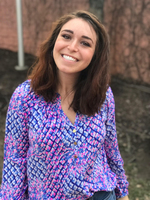 Rachel Hopmayer
In-Game Host
Rachel Hopmayer eagerly joins the Big Train for her first summer as On-Field Host. She will be a part of pregame ceremonies, in-game promotions and interviews. As a passionate fan of summer collegiate baseball, Rachel will be a recognizable face at the ballpark this summer, and looks forward to connecting with the fantastic fans, friends and family of Big Train.
Rachel is a huge sports fan and works for NBC Sports Washington in television and digital media. She graduated from American University with degrees in Broadcast Journalism and Marketing. During her time as an Eagle, she was an active member of her sorority and student-run television station.
Growing up in Boston, Rachel holds all New England teams near and dear to her heart.