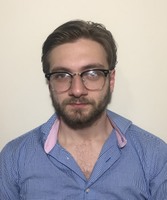 Alex Xanthakis
Writing Intern
Alex Xanthakis is a rising senior undergraduate student from Rhode Island attending the University of Michigan as an English major. Prior to joining the Big Train as a writing intern, Alex has written for numerous online platforms, mainly covering the NFL. In, his most recent writing gig, he aided the launch of the USA Today's TheRamsWire, a team-specific website designed for fans of the Los Angeles Rams.
He is a life-long sports fan and writer who most passionately roots for the Los Angeles Rams, though he also follows the NBA and MLB closely. On his campus, you may find him attending a variety of sporting events, ranging all the way from wrestling to golf and stopping nowhere in-between.
With Big Train, Alex aims to provide accurate and in-depth coverage for the team while occasionally finding a way to sneak his comedic touch into an article or two. He seeks to continue honing his craft here with Big Train as he looks towards landing a full-time sports writing position post-graduation.
I wear #9